The gravity die casting

Our casting techniques
Casting technology with precision: gravity die casting
The perfect precision casting technique between sand casting and die casting: gravity die casting. This casting process is characterized above all by its cost-effectiveness. Its investment costs are lower than those of die casting, and at the same time the use of permanent metal molds (permanent molds) is more productive than the production of workpieces by the sand casting process. Due to these and other excellent properties, permanent mold castings made of aluminum are used in many industrial sectors.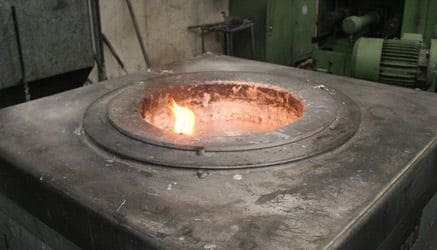 Aluminum gravity die casting process: Customized castings
In the aluminum permanent mold casting process, the molten aluminum is poured into a permanent metal mold via a sprue. The cavity of the so-called permanent mold is filled solely by the influence of gravity. Due to its high thermal conductivity, the mold accelerates the cooling of the molten aluminum as it solidifies. The rapid (and quite controllable) solidification means that permanent mold castings have a particularly fine-grained and dense microstructure. Compared with sand casting in particular, gravity die castings are characterized by a very smooth surface. As a result, they have better mechanical properties than comparable components made of aluminum, possess very high dimensional accuracy and impress with their exact contour reproduction. In addition, it is possible to form undercuts using sand cores.
Advantages of the permanent mold casting process
Advantages of the permanent mold casting process
favorable reproduction with constant quality
High profitability
smooth surfaces & optimal mechanical properties of the components
Piece weight up to 40 kg possible
Aluminium gravity die castings from miguss
Permanent mold casting brings with it many advantages. At miguss, we will be happy to advise you on all aspects of your individual and customized aluminum castings. Thanks to our fully automatic casting systems with filling and dosing via controlled robots for repeatable production, we are able to meet even the most demanding projects. Whatever dimension you need in terms of aluminum castings, we make it possible: at miguss we manufacture gravity die castings with a unit weight of up to 40 kg. Please feel free to contact us - together we will work out the perfect solution for your component made of aluminum using gravity die casting.