Castings - development and consulting at the computer
At miguss, the production of a cast part made of aluminum begins on the computer. Thanks to our modern simulation software, we are able to work quickly, inexpensively, with high quality and, above all, exactly according to your wishes. Our engineers, who have many years of experience, will advise you with full commitment in the first step of the design so that your component can be designed for casting. Using the latest computer technology, we can reduce costs in aluminum casting and save time by significantly reducing errors through precise and early planning. You are also welcome to purchase our development services independently of production. We offer you the know-how of our long-standing company and are happy to support you in the production of your cast parts.
Castings - reduce defects and reveal weak points
Before the aluminum is melted to create a casting, we already know what properties your product will have in the end thanks to our computer technology. The entire casting is simulated beforehand on the PC. From the development of the construction to the casting of aluminum to the final solidification of the cast part - everything is tested beforehand on the computer. Any problems are thus recognized early on, which enables the casting to be reshaped and reconstructed in good time. Depending on the requirements, we can make statements about the technical feasibility in the early project phase and give you the best advice on the optimal design.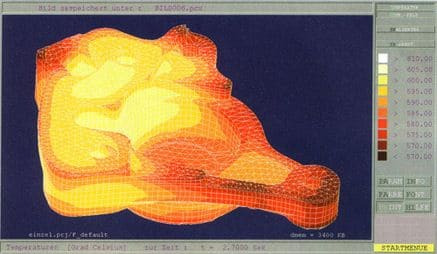 Computer technology for cast parts - the advantage
By using modern computer programs, costs and the time required can be reduced many times over. You will receive your individual cast part faster and you will already know its strengths and weaknesses before production, which saves you expensive changes in shape.
Do you have a project or an idea in mind? Then place your trust in us. Inquire today and challenge our engineers! We look forward to exciting new projects and working together with you!